Context is key. It's context that can take a single word comprised of just two letters – "no" – from a piece of connective tissue to an iconic moment in cinema history. Just like Luke Skywalker's emotional "No, nooo!" from Star Wars: Episode V: The Empire Strikes Back (1980) as he learns Darth Vader is his father, Betty Gabriel's unusual and haunting delivery of just that lone word in Get Out (2017) has become iconic. "No," her character Georgina pleads to Daniel Kaluuya's Chris, her frozen smile communicating something completely different to her wide, terrified eyes. "No no no no no no." It's not until the final third of the film that we truly understand her layered meaning, in fact, not just Georgina's layered meaning of the "no" but the layers of meaning in every element of Jordan Peele's socio-political horror film.
Considered one of the most critically acclaimed and pop-culturally significant directorial debuts ever, part of Get Out's brilliance was the maze of meanings Peele created for viewers to unravel and unpick. And not just on the first viewing, but upon multiple viewings and think pieces and analysis of the motion picture after the fact. Even something as seemingly straightforward as the title – Get Out – is imbued with importance, referring back to a skit in African American comedian Eddie Murphy's seminal stand-up special Delirious (1983) which dissects how different races respond to hypothetical horror movie scenarios.  "In The Amityville Horror (1979) the ghost told them to get out the house, white people stayed in there," Murphy notes. "Now that's a hit and a half for your ass. A ghost says 'get the fuck out' I would just tip out the fuck out the door… I would've been in the house saying 'Oh baby this is beautiful. We got a chandelier hanging up here, kids outside playing. It's a beautiful neighborhood. We ain't got nuttin to worry, I really love it. This is really nice.' (The ghost) GET OUT! 'Too bad we can't stay, baby!'"
The entire film – in both micro and macro ways – analyses the race and racism in not just 'liberal' America, but in the very genre Get Out exists within. Black characters in horror films historically either don't exist or exist for a limited amount of time, on the margins, being the first or second characters to be killed off meaning that the opportunity to see themselves reflected in the genre has been incredibly limited with the exception of films like Night Of The Living Dead (1968), The Thing (1982) or Candyman (1992). As Jada Pinkett-Smith's ill-fated Maureen states in the opening scene of Scream 2 (1997): "It's some dumb-ass white movie about some dumb-ass white girls getting their white asses cut the fuck up, okay?" Peele, a self-admitted genre diehard, understands this intimately and references it with everything from the film's title to the only warnings Chris receives coming from fellow black characters like Georgina echoing "no". It's the kind of puzzle fans have revelled in piecing together in the years since the film was able to become a worldwide hit earning more than $255M on Blumhouse's famously tight $5M budget. Not to mention four Academy Award nominations including Best Picture, Best Actor, Best Director and one win for Peele with Best Original Screenplay. It's the recognition and subversion of the genre – while also playing firmly within it – that makes a "no" more than just a "no" and instead something carrying the weight of decades worth of pop cultural meaning.
– Maria Lewis
---
This essay was written for Edit Line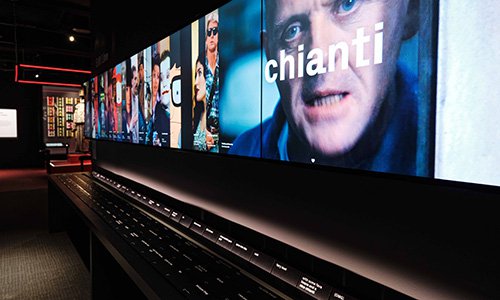 Create your own iconic film and TV moments in real time with Edit Line, an interactive experience in The Story of the Moving Image exhibition at ACMI.
Move physical blocks around to create a story from selected clips. Save your mini masterpiece with your Lens device and take it home with you.
---