Lena Dunham's exegesis on millennial middle-class malaise Girls (2012-2017) features her surrogate, aspiring writer Hannah, Zosia Mamet's highly-strung Shoshanna, Jemima Kirke's "free-spirit" Jessa, and Allison Williams's audience surrogate Marnie. The quartet navigates their 20s "one mistake at a time." By definition, it's another show through the lens of affluent Manhattan, a city that for outsiders – and outlier insiders like the inimitable Fran Lebowitz in Pretend it's a City (2021) – nobody can afford to live in. It's a thematically aimless show, where the aimlessness is intentional but feels accidental.
The highlight of the first season (and perhaps the whole series) of Lena Dunham's Girls was the relationship between Hannah (Dunham) and Adam Sackler (Adam Driver). What begins with the audience sympathising with Hannah's impulsive and self-destructive desire to keep their emotionally turbulent relationship alive, expands until it's rendering a sick Stockholm syndrome situation. This line synthesises Hannah's confession of precisely what she wants out of a relationship: "I just want someone who wants to hang out all the time and thinks I'm the best person in the world." This uncomfortably naked (figuratively – the show does feature plenty of the literal kind too), authenticity is precisely what made the show compelling. There's a fine line between knowing what's best for ourselves and doing what's best.
Girls feels like a post-emotion show. Much of what makes the show compulsively watchable and frustrating in equal measure is its high functioning apathy. The show required characters, including Adam (Driver) in this scene, to expose the depths of their unlikeability to the world. In this scene, amid Hannah's self-aware homily about the demise of their relationship, Adam is distracted and smiles as a woman pushes her squeaky shopping cart down the hall. The characters so openly articulate their lives' expectations, the kind of jobs to match their desired status and their perceived worth. The series goes through great pains to present how wrong they are, planning life like an outfit with a series of accessories.
In the finale of the fifth season of Girls, Adam (Driver) and Jessa (Jemima Kirke) are in the midst of a blow-out argument. They have paired up, thereby breaking a foundational rule in friendship: never hook up with your best friend's ex. In a moment of pure fury attempting to dissuade Jessa from leaving to try to reconcile, Adam reveals that Hannah told him everything she hates about Jessa. In a moment that you've been programmed to pre-empt for that kind of revelation to cripple Jessa, she retorts "Welcome to having a friend, something you would know nothing about!" The final season of the show went out on its terms. The discourse of Girls and its position in pop culture became part of the cycle of the series, engaging with criticisms, and perhaps its legacy is Dunham's insight into the nourishment and punishment in her particular love/hate friendships.
– Blake Howard
---
Explore more stories about screen Goddesses at ACMI
---
This essay was written for Edit Line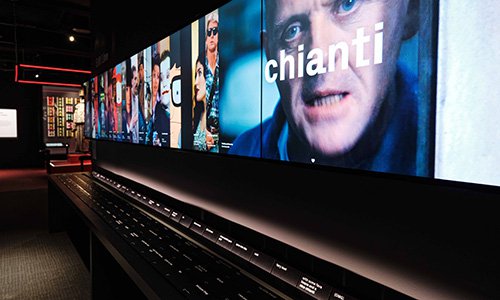 Create your own iconic film and TV moments in real time with Edit Line, an interactive experience in The Story of the Moving Image exhibition at ACMI.
Move physical blocks around to create a story from selected clips. Save your mini masterpiece with your Lens device and take it home with you.
---