In a world of endless stories, millions upon billions of tales waiting to be told, sometimes the right story needs the right person to tell it. In the case of black female mathematicians who worked as "human computers" at NASA during the Space Race of the 1950s and 60s, that person was Margot Lee Shetterly. Growing up in Hampton, Virginia in the 70s and 80s, Shetterly was surrounded by black families who worked nearby at NASA: including her father who was a research scientist at the NASA-Langley Research Center. Yet it wasn't until 2010 when her dad was recounting some of the stories of his NASA colleagues that Shetterly realised what had seemed ordinary to her environment, was actually extraordinary after her husband asked her why he hadn't heard these stories before.
That spark became the basis of Hidden Figures: The American Dream and the Untold Story of the Black Women Who Helped Win the Space Race, her award-winning non-fiction book that went on to be adapted into movie Hidden Figures (2016). The film starred Taraji P Henson, Octavia Spencer and Janelle Monáe in her feature film debut (alongside Moonlight (2016) which was released that same year) as the three African American scientists who had to combat racism, sexism and societal expectations in order to beat the Russians by putting the first men on the moon. Written, directed and produced by Theodore Melfi, the film was the biggest hit of that year's Best Picture Academy Award contenders earning $236M globally on a $25M budget. Along with three Oscar nominations (Best Picture, Best Actress In A Supporting Role for Octavia Spencer, Best Adapted Screenplay), it had mainstream crossover appeal that few awards season picks actually do.
The stacked supporting cast – which included Kirsten Dunst, Kevin Costner, Jim Parsons, Mahershala Ali and Aldis Hodge – sat alongside Henson as real-life legend Katherine Johnson. Famous for playing bombshells, vixens, and knowingly self-aware leading ladies, the role was against type for the actress who brought the demure genius to the big screen in a portrayal that didn't receive as many accolades as, say, Spencer but was just as significant for its underrated power. Katherine Johnson's tenure at NASA lasted 35 years, with her role a historical one not just for what she was able to accomplish as a mathematician - calculating trajectories, launch windows, return paths for spaceflights, Mars missions and more - but also African American integration in Virginia graduate schools where she became one of the first three black students admitted.
Awarded the Presidential Medal of Freedom in 2015 by then President Barack Obama, she and her husband Jim Johnson lived to see their big-screen portrayals in Hidden Figures just a year later. She passed away in 2020, at the age of 101, not long after her partner of 60 years who died at 93 in 2019. Described as an American hero by her former employees at NASA, her legacy lives on not just through Henson's performance but her ground-breaking feats of mathematics that have shaped modern space exploration as we know it.
– Maria Lewis
---
Explore more stories about screen Goddesses at ACMI
---
This essay was written for Edit Line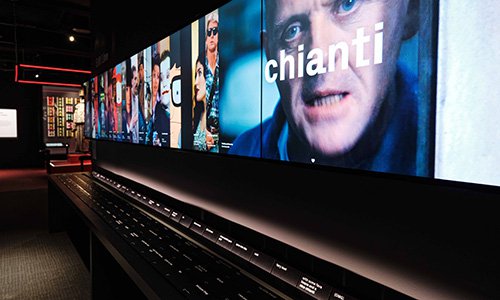 Create your own iconic film and TV moments in real time with Edit Line, an interactive experience in The Story of the Moving Image exhibition at ACMI.
Move physical blocks around to create a story from selected clips. Save your mini masterpiece with your Lens device and take it home with you.
---