Before there was chants of "Rufio!", before there was the one-two punch of breakout leading ladies with Gwyneth Paltrow and Julia Roberts, before there was a grown-ass Peter Pan telling the Lost Boys he remembered, and before Steven Spielberg journeyed to Neverland, there was Dustin Hoffman. In fact, when Hook (1991) was just an untitled proposed sequel to J.M. Barrie's classic 1911 novel Peter and Wendy, the only person attached besides Michael Jackson as Peter was Dustin Hoffman as Captain Hook. This was in the 1980s, however, and the film would spend nearly a decade in development hell cycling through directors and writers – including an uncredited Carrie Fisher – before Spielberg would have his vision realised. And Hoffman as the title character was one of the few things that endured.
Considered one of the greatest living actors, Hoffman is better known for his serious performances with seven Academy Award nominations to his name including two wins for Rain Man (1988) and Kramer vs. Kramer (1979). Although he rarely gets to flex his comedic muscle, that's not to say it's not there: Tootsie (1982), Chef (2014,) I Heart Huckabees (2004) and Wag the Dog (1997) prove as much. Hook isn't even his only Peter Pan property, with Hoffman appearing as Charles Frohman in J.M. Barrie biopic Finding Neverland (2004). Yet Captain Hook is one of the great villain Holy Grails, the character having endured from his play form, to novel, to animated Disney classic, to a thousand different iterations since.
Therefore getting to play the over the top and flamboyant child killer – and leave your mark on one of the few iconic villains – is coveted by thespians for a reason, especially because there are so few opportunities. Robert De Niro, for instance, never got the chance but did get close enough to play gay pirate Captain Shakespeare in Stardust (2007), which was a direct wink to Captain Hook. So Hoffman's delight as he squeals "I like it!" over and over again in his captain's quarters is understandable. He infuses it with an almost giddy enthusiasm, which fits the theatrics of the character of Captain Hook but also fits the journey it took to playing him. He's a villain who preys on children and for many children, he's one of the first villains they're exposed to, with everything from the physicality to the vocal pitch of "I like it! I like it! I like it!" designed to entertain and terrify the target audience.
– Maria Lewis
---
This essay was written for Edit Line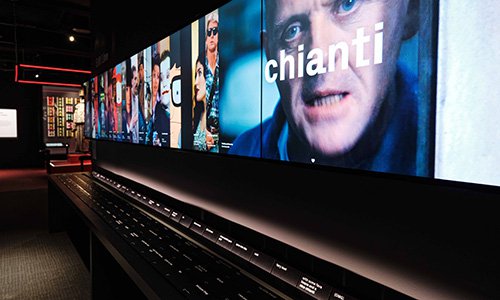 Create your own iconic film and TV moments in real time with Edit Line, an interactive experience in The Story of the Moving Image exhibition at ACMI.
Move physical blocks around to create a story from selected clips. Save your mini masterpiece with your Lens device and take it home with you.
---