When French writer Gaston Leroux's novel The Phantom of the Opera (Le Fantôme de l'Opéra) was being released back in 1909, it's unlikely the author could have ever imagined that his tortured, romantic antagonist could be, well, funny. Even Lon Chaney's seminal performance as the character in The Phantom Of The Opera (1925) during the height of Universal's movie monsters didn't allude to that reality. It wasn't until Andrew Lloyd Webber's musical adaptation debuted in 1986 and continued to infiltrate popular culture as one of the most successful stage productions of all time with box-office receipts of over $6 billion and a global audience of an estimated 130 million people that the possibility started to arise in earnest. Michael Crawford originated the role of The Phantom both on West End and Broadway, with the inherent nature of both the medium and Lloyd Webber's music leading to theatrics that became iconic to the point of parody.
The Phantom was a B-list Universal movie monster at best, Chaney a significant performer but that character paling in comparison to the more showy Wolf Man or Dracula or Frankenstein's Monster. All of these horror movie archetypes got dusted off and given the family friendly treatment for Adam Sandler's Hotel Transylvania franchise. The animated series features the voicework of Sandler as Count Dracula, with his roster of regular accomplices filling out the rest of the cast like Kevin James, Steve Buscemi and David Spade. Consisting of three films (and more in production) that have grossed more than $1.3 billion on a budget of $245 million, graphic novels and shorts, the Hotel Transylvania franchise has been one of Sandler's most successful all-ages entertainment pivots. Although it is set within a classically horror universe, the characters and scenarios are designed to be distinctly comedic: enter from a swinging chandelier, The Phantom.
Voiced by Saturday Night Live (1975–present) alum Jon Lovitz, the character first appears in Hotel Transylvania 2 (2015) as the resident musical guest of the establishment in the title. The Phantom doesn't speak his lines of dialogue, instead he theatrically and moodily sings every one of them. So when Mavis (Selena Gomez) is asked by her in-laws how her mother died and she replies "she was killed by angry humans", the camera cuts from a wide shot at the dinner table to a close up of The Phantom in the foreground as he croons "awkward". It's one word, but the execution is layered as it first pays homage to Lovitz's famous SNL characters Master Thespian and pathological liar Tommy Flanagan whose delivery of lines like "acting, thank you!" were over the top and drawn out. Yet it also winks at the evolution of The Phantom as a character from Leroux's Gothic vision on the page to Lloyd Webber and Crawford's stage version that has become the dominant portrayal. So much so that The Phantom – despite being over a hundred years old and the musical having been around for more than three decades – still endures as a comedic character, with viral TikTok memes and Chris Fleming parodies that lean just as hard into the theatrically as Lovitz's execution of "awkward".
– Maria Lewis
---
This essay was written for Edit Line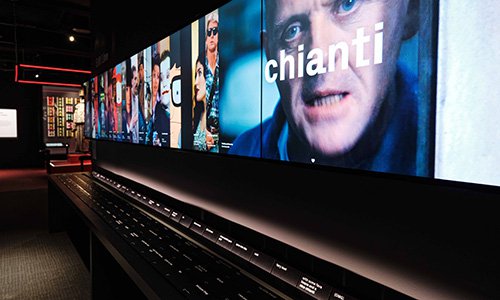 Create your own iconic film and TV moments in real time with Edit Line, an interactive experience in The Story of the Moving Image exhibition at ACMI.
Move physical blocks around to create a story from selected clips. Save your mini masterpiece with your Lens device and take it home with you.
---