Margot Robbie took the biggest risk of her career when she signed on to star and co-produce black comedy biopic I, Tonya (2017) at the age of 26. It was the debut production for her company LuckyChap Entertainment, which was founded in 2014 by Robbie, her two best friends and husband, and had to overcome the difficult task of being a fourth-wall breaking, satirical social commentary on an event that was a defining moment in American culture during the 1990s. For Australian director Craig Gillespie, that also meant juggling a tight budget and even tighter production schedule as he attempted to make a technically challenging feature film for just $11 million. It worked, with I, Tonya's global haul of over $53 million not the only measure of success as it went on to become one of the best-reviewed films of that year and was nominated for three Academy Awards, including Allison Janney winning for Best Performance by an Actress in a Supporting Role in 2018.
At the centre of the film, holding everything together, was Robbie's performance as the great American antiheroine Tonya Harding. It's a role that garnered the Australian actress her first Oscar nomination and rightly so, with not only the physical demands of the part considerable (four months of intensive ice skating training) but the emotional ones as well (Harding was a survivor a domestic abuse). Then there were the practical aspects and the challenges of having to play a real-life person from when she was 15-years old right through to her forties. This meant not only having to deliver a performance through sometimes expression-restrictive age makeup and a rotating roster of intense wigs, but a vocal performance that required a subtle amount of skill.
"What kind of friggen person bashes in their friend's knee?" Robbie asks as Harding, taking a puff on her cigarette as she stares directly into the camera during an interview in her home. "Who would do that … to a friend?" More than the specific cadence and unusual patterns of her speech, Robbie's delivery of that line is indicative of the actress's attention to even the smallest details. "Margot Robbie is really a fantastic accent performer," dialect coach Erik Singer told Wired about this specific line reading. "She's captures something really, really great about Tonya Harding's actual voice here. There's not a lot that's really distinctive about Pacific Northwest accents … Another thing I find really impressive about this performance vocally is the way the voice changes as the character gets older. Your vocal folds get stiffer as you age and one of the things that does is lower the fundamental pitch and timbre."
Not only has life aged Tonya, worn on Tonya, changed Tonya in irrevocable ways, age has changed her as well: it's this combination of elements we see all together and all at once as she asks "What kind of friggen person bashes in their friend's knee?" It's more than a throwaway line or reference to the key event in both the film and Tonya Harding's life, but it's the perfect summary of all the things that make Robbie's performance - and I, Tonya as a whole - exceptional.
– Maria Lewis
---
Explore more stories about screen Goddesses at ACMI
---
This essay was written for Edit Line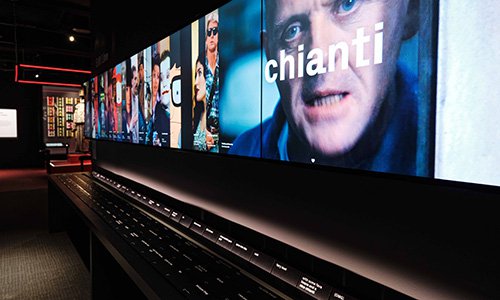 Create your own iconic film and TV moments in real time with Edit Line, an interactive experience in The Story of the Moving Image exhibition at ACMI.
Move physical blocks around to create a story from selected clips. Save your mini masterpiece with your Lens device and take it home with you.
---