In the second episode of the second series of Killing Eve, Villanelle says to Gabrielle, "You are really good at stealing, you should do it more." Gabrielle responds, "You're funny." When Villanelle responds, there's a pause, a gaze as penetrating as a scalpel. During the first addictive series, we've seen many instances of Villanelle's brazen craft, risking her life to deliver bloody and deadly results for her shadowy employers. Villanelle replies, "Yes…" During a pause you could fly a plane though, you are forced to reckon with the many instances that you laughed through a bracingly uncomfortable and forthright moment of genuine surprise. Villanelle concludes, "I am funny." Yes, she and so is Killing Eve.
"Funny" is an extremely mild adjective to describe the incredible talent of the creator of Killing Eve (2018–present) and writer of the first series Phoebe Waller-Bridge. The prodigious creative force behind Fleabag (2016–19) – adapted from her stage play for television – took time between her critically acclaimed and award-winning insightful and incisive come series to pivot to globe-trotting espionage. Adapting Luke Jennings' Codename Villanelle series, Waller-Bridge energises and astonishes with the battle of wills between a Russian assassin and operative for 'The Twelve' Villanelle (Jodie Comer) and dogged MI5 agent Eve Polastri (Sandra Oh). Killing Eve embraces and reinvents a cat and mouse tale between two mesmerising women. One, the glacially beautiful, violent psychopath Villanelle (Comer); the other, the easily overlooked, intuitive and dazzlingly engaging Eve (Oh). The characters' strength and the storytelling's defiance make one feel okay about mentioning Eve and Villanelle alongside Clarice and Hannibal. That is if one could fan edit Thomas Harris' Hannibal novel to release Clarice from her basement office in the FBI and take her on a world-tour to pick-up Hannibal's bloody trail.
Comer and Oh were drawn to Killing Eve after seeing Fleabag and reading Waller-Bridge's exciting treatment of the story. Fleabag was defined by the unbelievably resonant formal shift, having Fleabag make the audience complicit to her internal monologue. And yet, when you've accepted and embraced the comfort and secrecy of that confessional, she stuns you by making the "hot priest" (Andrew Scott) aware of her confession. "The element of surprise is the most important thing and what keeps me interested in writing. I can feel it if I've written that predictable or boring line, and I will carry that around with me all day... My instinct is the more serious the scene, the more I need to undercut it," Waller-Bridge says. The reverberations of Killing Eve are now going to be felt in what Waller-Bridge calls "little spices" in the grandfather of film franchises, James Bond. Multi-award-winning writer Waller-Bridge caught Daniel Craig's eye and was enlisted to "to help out" with the script for the 25th official 007 instalment, No Time To Die. "They were just looking for tweaks across a few of the characters and a few of the storylines," says Waller-Bridge. The spy king will now embrace the fresh voice of a queen.
– Blake Howard
---
Explore more stories about screen Goddesses at ACMI
---
This essay was written for Edit Line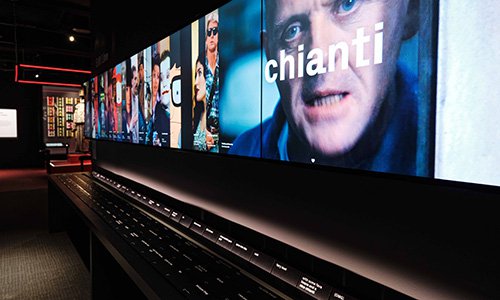 Create your own iconic film and TV moments in real time with Edit Line, an interactive experience in The Story of the Moving Image exhibition at ACMI.
Move physical blocks around to create a story from selected clips. Save your mini masterpiece with your Lens device and take it home with you.
---