Toula Portokalos wants love, but she doesn't believe she deserves it. At least not in the form of Ian Miller, a handsome English teacher with kind eyes. After all, her role in life is clearly stated from the opening lines of My Big Fat Greek Wedding (2002): "Nice Greek girls are supposed to do three things in life: marry Greek boys, make Greek babies, and feed everyone until the day we die." But Ian Miller – played by Sex and The City hunk John Corbett – upends those plans. Not only is he not Greek, in Toula's eyes he's more than she deserves. The audience knows differently, of course. From the second she appears on screen in a palette of muted browns and not the primary colours she'll lean on later – like red, the colour of love – Toula is the heart of the movie. She's more than an atypical rom-com heroine: she's not blonde, blue-eyed, or all-American. She's Greek and her life experiences are informed by those of the real-life woman playing her: Nia Vardalos.
My Big Fat Greek Wedding (2002) was adapted from Vardalos's one-woman stage show of the same name, which played sold-out dates in Los Angeles for months after the comedian and writer cleverly advertised the production in Greek Orthodox churches across the area. It was seen by Rita Wilson and her husband Tom Hanks, who came on board to produce the big-screen adaptation which became the highest grossing romantic comedy of all time, earning a global box-office haul of more than $368 million on a $5 million budget. A key part of its success, according to Hanks, was Vardalos who Hollywood producers had originally sought to replace with actress Marisa Tomei (among others) in initial development meetings.
Yet because it was Vardalos in that central role, playing a version of a character she had lived in and developed, her insecurities and doubt become our own. When the object of her affection pushes her to reveal more about herself on their second date, Toula finally opens up. "No one in my family has ever gone out with a non-Greek before," she says, questioning why they should even keep seeing each other when their obvious differences mean their relationship is doomed. "And you're … you're wonderful." The 'you're' is more than connective tissue, it's imbued with all the hope and longing that Toula has for a better life. As the 'other' in traditional American society, it's a life that she believes is unattainable: one with someone who respects her, loves her, and partners with her outside of familial obligation. Vardalos's pen is as sharp as her insights and her original screenplay saw her nominated for an Academy Award. Ultimately she lost to Pedro Almodóvar for Talk To Her (2002), but the biggest triumph was the millions of women who connected with Toula, who connected with Nia, and saw themselves finally reflected in the heroine she put on-screen.
– Maria Lewis
---
Explore more stories about screen Goddesses at ACMI
---
This essay was written for Edit Line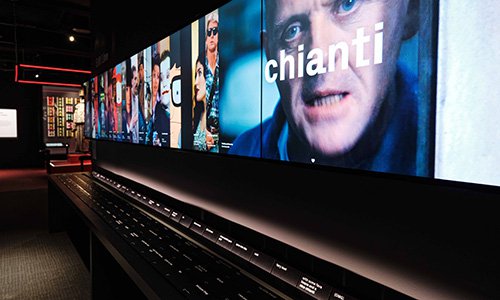 Create your own iconic film and TV moments in real time with Edit Line, an interactive experience in The Story of the Moving Image exhibition at ACMI.
Move physical blocks around to create a story from selected clips. Save your mini masterpiece with your Lens device and take it home with you.
---