The bespectacled Kip (Aaron Ruell) is grating a gigantic building shaped block of cheese taller than his head when the phone rings. He whips around before eeking out a lazy, "Hi." His brother Napoleon calls from the school office, nursing a rotary phone with a huge cord. There's a beautiful colour contrast in the orange locker and Napoleon's baby blue t-shirt with a graphic of wild horses, tucked into belt-less Dad jeans. Napoleon wants to go home because he doesn't feel good and after his brother convinces him to stay, Napoleon pleads for him to at least bring his chapstick because his "lips hurt real bad." When Kip hangs up, Napoleon lets out a frustrating exhale before exclaiming, "Idiot", a precise catchphrase that appears throughout the rest of the film.
It cannot be overstated, after its release in 2004, that Napoleon Dynamite was a sensation. Director Jared Hess' debut feature (co-written by Jerusha Hess) took us into Preston, Idaho and introduced us to a strange slice of nerd life of the eponymous, awkward, laconic hero: Napoleon Dynamite (Jon Heder). Inspired and expanded from Hess' short Peluca (2003), also starring Heder, Napoleon struggles to find satisfaction and happiness at home or school. With an irksome (and hilariously hostile) self-defence (mostly verbal), he huffs and puffs and repeatedly considers that he's the one blown down. When he's asked by his Grandma how his day was, he responds, "The worst day of my life, what do you think?" That is until he befriends Pedro, a new student from Mexico with a great bike and moustache, and decides that he's going to help him run for class president. The film was immediately adopted into the 2000s pop culture lexicon. There was a time around 2004, when "Vote For Pedro" T-Shirts where ubiquitous, and merchandise extended Napoleon Dynamite's off-screen life. Special editions of the films, replica clothes, Napoleon Halloween costumes – the film's impact was seismic. Napoleon Dynamite (2004) was also a runaway commercial success. From an estimated modest budget of $400,000 the film grossed $44,940,956 at the US Box Office. This unpredictable, original entity created a (good) problem for box-office pundits. This completely unexpected indie sensation didn't follow the tried-and-true studio 'rules.' The filmmakers behind Napoleon Dynamite litigated Paramount studios for withheld funds as the 'Hollywood math' seemed to squash the film's profit margin.
So much of this is Heder as a comedy specimen: his slack-jawed, dead-eyed look, his curly white-boy afro and his permanently tilted posture. Some people have funny bones, and Heder's early roles embraced his inner weird. It feels almost impossible to explain the allure of this cantankerous, frustrated teen that finds every part of his life taxing. Whether it's sledging a Llama, "Tina, you fat lard...EAT THE FOOD", enquiring if chickens have "Large talons", bragging about hunting wolverines with a "Freakin' 12-gauge, what do you think?", Hess and Hess created this character with so many strange traits that you spend the 96-minute run time endlessly peeling them, and it's addictive, like it was for so many people to quote "Idiot" back when the film came out and today.
– Blake Howard
---
This essay was written for Edit Line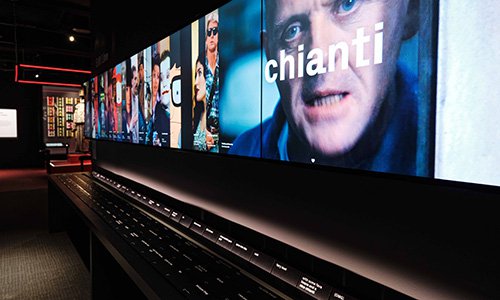 Create your own iconic film and TV moments in real time with Edit Line, an interactive experience in The Story of the Moving Image exhibition at ACMI.
Move physical blocks around to create a story from selected clips. Save your mini masterpiece with your Lens device and take it home with you.
---