Uzo Aduba's Suzanne Warren – affectionately dubbed 'Crazy Eyes' – is having a moment. During a spot of recreational activity at the fictional minimum security prison Litchfield Penitentiary (the setting for the first five seasons of Orange Is The New Black), she's coming onto fellow inmate Piper Chapman (Taylor Schilling). With those intense and indeed crazy eyes at their most hypnotic, Crazy Eyes dances and wiggles her fingers like she's casting a spell. "Why? 'cause you light a fire inside me". Crazy Eyes runs her hands down her chest, signalling her fire source. Crazy Eyes, like Netflix's 105 million customers had over six seasons, is infatuated with Piper and her incarcerated life. There's only one response to Crazy Eyes' self-satisfied top teeth, resting on her bottom lip: "Wow..." Piper responds.
Created by Jenji Kohan (Weeds) and based on Piper Kerman's memoir, Orange Is The New Black (2013–19) follows a bisexual, white woman experiencing life behind bars. Kohan used Piper's tale as an entry point into what Judy Berman from Time Magazine called a "Trojan horse" of a show. Berman explains that Kohan smuggled "dozens of women Hollywood historically ignored—poor women, black women, brown women, trans women, immigrant women, elderly women, mentally ill women, women with double-digit dress sizes" into the show. In 2014, Time Magazine declared Laverne Cox's transgender inmate Sophia Burset was reflective of a "transgender tipping point", with Cox praising Orange's humanising point of reference to demystify trans people. The show helped Netflix's stratospheric rise and streaming to take its place alongside prestige cable networks Showtime and HBO and alter the landscape of home entertainment. Once the show finds its groove, Orange is the New Black uses A & B plotting to demonstrate how the systemic inequality led to the incarceration of these women/people and their actions and behaviour inside respond to those conditions.
The golden age of streaming took the baton from cable's golden age of what is often referred to as 'Peak TV' and two years before The Sopranos (1999–2007), HBO launched a fictional New York prison drama that would help to change the definitions of television – Oz. Tom Fontana (writer of Homicide: Life on the Street) created the first hour-long cable drama about Oswald State Penitentiary. The show followed the correction officers maintaining control; the doctors and priests tried to physically and spiritually heal the inmates. The explosive and brutal power play between social/racial factions for power. For all the formal contrasts to Oz, Orange can show an updated view of the culture of the 2010s in microcosm. The bingeable dose of day-to-day privatised prison bureaucracy formed one of many updated threads. The underrepresented screen figures in Hollywood are the main characters in prison society. It wasn't just Kohan smuggling them into prestige streaming drama; it lit a fire inside to ask why it takes shows about prison to reflect best how we see ourselves?
– Blake Howard
---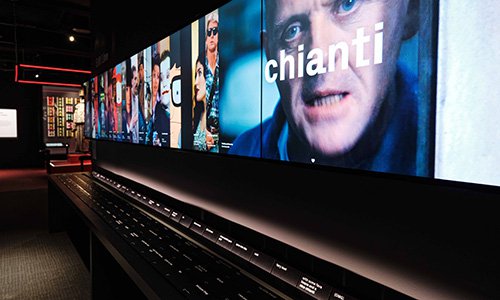 This essay was written for Edit Line
Create your own iconic film and TV moments in real time with Edit Line, an interactive experience in The Story of the Moving Image exhibition at ACMI.
Move physical blocks around to create a story from selected clips. Save your mini masterpiece with your Lens device and take it home with you.
---