Reading the list of awards that Bong Joon-ho's Parasite (2019) won would take almost as long as it would to watch the film. Bong's dark comedy thriller swept every award ceremony from the Cannes Film Festival to the Oscars and the Golden Globes, becoming the first non-English language film to win the Academy Award for Best Picture (as well as these other historical firsts) and the first South Korean film to win the Palme d'Or. Empire called it "a miracle of a film" and Vulture headlined it as an "Acid-Black Comedy That Eats at the Mind", but critics weren't the only ones who fawned over Bong's masterpiece. Audiences turned up in droves, helping it gross $264m USD off an $11m USD budget, and in Melbourne, it played at one cinema for over a year. Alongside a very different film, Marvel's Avengers: Endgame, it was the most talked about film of 2019.
Parasite is a very different film to that big American blockbuster – an intimate and immersive exploration of class warfare through two families on opposing spectrums of capitalism. The Kims live in a subterranean apartment, folding pizza boxes to get by, while the Parks inhabit a modernist masterpiece of a house that reflects their privilege and power. When Kim Ki-woo's (Woo-sik Choi) university-educated friend gives the Kims a scholar's rock meant to promise wealth, and when the friend travels abroad, he offers Ki-woo his job as the Parks' English tutor. So begins the long con, which sees Ki-woo plant the seeds in his new employers' minds to hire the rest of his family – father Ki-taek (Song Kang Ho), mother Chung-sook (Chang Hyae Jin) and sister Ki-jung (Park So Dam) – under false pretences and fictious identities. Slowly, the Kims ingratiate themselves into the Parks' life with humorous and horrific results.
The second Kim family member to infiltrate the Parks' house is Ki-jung (Park So-dam), who poses as an acclaimed children's art therapist – "Jessica, only child, Illinois, Chicago". It's an elaborate charade that Ki-woo has concocted for his sister, a performance that requires practise. Before "Jessica" meets the Parks, Ki-Jung and Ki-woo stop outside the house and in a sing-song voice, Ki-Jung recites her cover story to the tune of "Dokdo is Our Land", a famous children's song "frequently used by Korean students to help them memorize information". Being from Chicago gives her cover story legitimacy and serves the narrative by explaining why the mother wouldn't have heard of her, while her overseas education also gives 'Jessica' the kind of pedigree that would impress the Park family. You can see the moment at 0.28 seconds in the video below.
The melodic way they confirm their cover stories not only helps the characters memorise the line, but cinemagoers around the world. The line is now known as "Jessica's Jingle", and according to Buzzfeed is every one of their 15 reasons to see Parasite. InStyle was similarly effusive in their praise for the moment, publishing an article entitled Trust Me: You Need to See Parasite, If Only For "Jessica", saying of the line "Jessica, only child, Illinois, Chicago", that "those words will be meaningless to you unless you've seen the movie, but once you do, you'll walk away with them committed to memory".
Even you don't commit them to memory, the pop-culture-obsessed corners of the internet will help remind you, and so will actor Park So-dam, who released the below tutorial (which has over 1.5m views) for aspiring grifters.
On Twitter, the moment has inspired people to pledge to name their first child Jessica, uncover the sheet music and take a DNA test to confirm they're 100% Jessica, only child, from Illinois, Chicago. Part of the charm of the line is how So-dam delivers it, raising and folding two fingers to punctuate the words, which has inspired animated GIFs and the abovementioned tutorial.
Of course, its catchy tune lends itself to being remixed and recut into other media. You can check out the electro version or the metal version if you want a little more musicality, but for purists there's also this 10-minute loop. If you'd prefer to wear your love for the line on your tee, there are countless places to buy the phrase emblazoned across t-shirts.
So, while Parasite won all the awards, "Jessica, only child, Illinois, Chicago" won the most memorable moment of a masterpiece. And if you're looking for even more Parasite, stay tuned for the TV spin-off from Bong Joon-ho and Adam McKay.
– Matt Millikan
---
Explore more stories about screen Goddesses at ACMI
---
This essay was written for Edit Line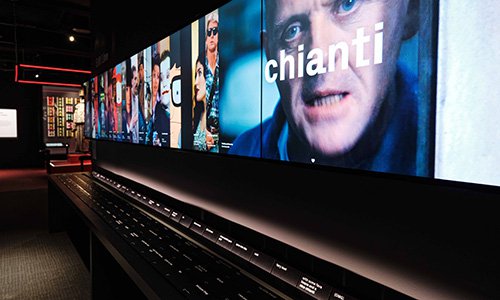 Create your own iconic film and TV moments in real time with Edit Line, an interactive experience in The Story of the Moving Image exhibition at ACMI.
Move physical blocks around to create a story from selected clips. Save your mini masterpiece with your Lens device and take it home with you.
---