"Do you understand the words that are coming out of my mouth?!" Chris Tucker's LAPD detective Carter shouts at freshly arrived Hong Kong inspector Lee, played by Jackie Chan. It's their first interaction in Rush Hour (1998), occurring just 25 minutes into the movie's runtime and establishing their initially antagonistic relationship. Unsurprisingly, the two bond over the course of the film's events and eventually learn to start working together as a team of cops nobody wants to work with, on a case nobody wants investigated, solving a crime nobody truly cares about. It's a tried and true formula of the buddy cop sub-genre, which combines elements of both crime and comedy.
Birthed in earnest with Eddie Murphy and Nick Nolte vehicle 48 Hrs (1982) and cemented with films like Midnight Run (1988), Stakeout (1987) and the Lethal Weapon (1987) franchise, the conventions are always roughly the same. Two ideologically opposed individuals working together towards a shared goal and developing a genuine friendship along the way – yet the formula can be tweaked. Usually at least one member of the pair is law enforcement of some kind – like 21 Jump Street (2012) and Blue Streak (1999) – or representative of law enforcement, like private detectives as was the case in Shane Black's The Nice Guys (2016). They need to be different enough from each other to create an endless source of conflict and humour, which is usually race: a black lead and a white lead, like Bruce Willis and Damon Wayans in The Last Boy Scout (1991). However, that can also be age – Michael J. Fox and James Woods in The Hard Way (1991) – or socioeconomic backgrounds – Melissa McCarthy and Sandra Bullock in The Heat (2013). The examples where the members of a buddy cop duo are both non-white are few and far between, but the two most prominent instances are both hugely successful: the Bad Boys (1995) and Rush Hour franchises.
The former had two African American officers in Martin Lawrence and Will Smith, with their characters sharing a cultural language. The latter, however, sought to combine an African American officer – Carter – with a Chinese one – Lee – with the two performers as different in real life as their characters. Tucker had become a stand-up comedy star in his teens during the era of Dave Chappelle and Chris Rock. Like Eddie Murphy before him, he had made the crossover to big-screen star and was coming off a string of hits with Friday (1995), Jackie Brown (1997) and the iconic Ruby Rhod in The Fifth Element (1997). Chan, on the other hand, was one of the biggest international movie stars in the world and famous for his ground-breaking stunt work and slapstick martial arts style which had been showcased in more than 80 films by that point. Yet, in his forties, he was a relative unknown to American audiences and the success Rush Hour – and the entire franchise as a whole (international box-office receipts of over $850M) – ignited an entire second wave of his career as a Hollywood entity.
Yet none of that would have been possible without the chemistry of Tucker and Chan on-screen (as well as off, as they have gone on to become close friends), making them as an entity something audiences flocked to see. This was during the buddy cop sub-genre's peak, when the market was flooded with films that fit this bill. However, Rush Hour was unique in what Tucker and Chan could offer as stars but also what their characters Carter and Lee could offer viewers. Their interactions were racially loaded, with Carter not only not wanting an offsider – "I don 't want no partner, I don't need no partner and I ain't never gonna have no partner" – but definitely not wanting one who was Chinese. His assumption that Lee couldn't speak English by not understanding "the words that are coming out of my mouth" was not only incorrect but ignorant about Lee and his culture… as too was Lee's interaction with African American men in a bar, where he mistakenly addresses them with the n-word after watching Carter's greetings just moments earlier. The "words" and language are just one barrier that gets broken down between the two of them as Carter shares his music, Lee shares his food, and they both share their expertise as crime fighters to ultimately save the day.
– Maria Lewis
---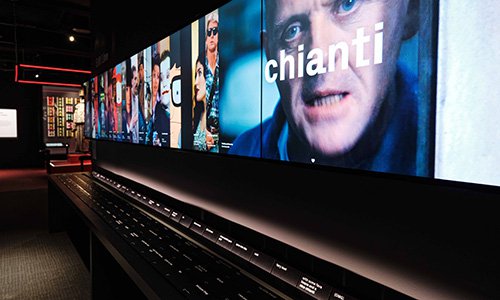 This essay was written for Edit Line
Create your own iconic film and TV moments in real time with Edit Line, an interactive experience in The Story of the Moving Image exhibition at ACMI.
Move physical blocks around to create a story from selected clips. Save your mini masterpiece with your Lens device and take it home with you.
---