In 2009, 30 Rock star Jane Krakowski broke hearts and split sides when she counted down "TV's 50 Funniest Phrases" for NBC and the Paley Centre for Media. The broken hearts were because everyone has a favourite – "D'oh!" from The Simpsons or "How you doin'?" from Friends (both were in the top 10) – but it was a line from the 153rd episode of Seinfeld that took the top honour.
Beating out all others was 'yada, yada, yada'. In Seinfeld, the phrase comes to stand for glossing over the boring details of a story. George's girlfriend Marcy first uses it to make up a story about getting a free massage and a facial more succinct, which George picks up (like everyone else in the 1990s) and uses frequently to avoid embarrassing details of his past relationship. When Marcy uses it in the context of her ex-boyfriend coming over the night before, leaving her "really tired today". This send George into a panic, who asks Jerry and Elaine if her yada, yada, yada could mean sex, Elaine raises her hand and recounts:
"I've yada, yada, yada'ed sex. I met this lawyer, we went to dinner, I had the lobster bisque, we went back to my place yada yada yada I never heard from him again."
Of course, this doesn't ease George's worries, but it did ease into pop culture consciousness. It's the name of a book about the series, it was in the NYPost's article on Seinfeld's greatest contributions to the English language, and Vulture interviewed the writer who came up with the line to further investigate this pop culture phenomenon, with the interviewer positing the phrase is "such an essential part of speech now".  July 23 is even International Yada Yada Day, which isn't yet recognised as a public holiday but is recognised by Jerry Seinfeld himself in Comedians in Cars Getting Coffee.
And the name of that 153rd episode? The Yada Yada.
---
Explore more stories about screen Goddesses at ACMI
---
This essay was written for Edit Line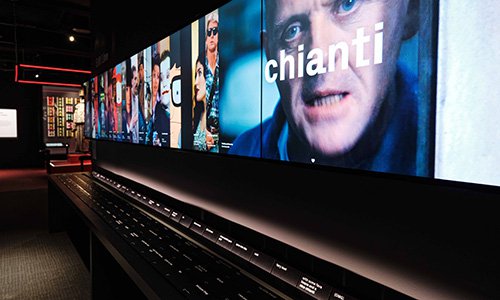 Create your own iconic film and TV moments in real time with Edit Line, an interactive experience in The Story of the Moving Image exhibition at ACMI.
Move physical blocks around to create a story from selected clips. Save your mini masterpiece with your Lens device and take it home with you.
---