Sorry to Bother You was declared one of the weirdest, challenging and entertaining films of recent memory upon its release. It appeared on several Best of 2018 lists, with a review in The Guardian stating that among releases that felt like comfort food, the film is "the richest of cinematic caviar." In what can be described as a surrealist, intersectional take on How to Succeed in Business Without Really Trying, the film is the story of a young black man named Cassius Green who is hoping for increased social mobility and comfort by rising through the ranks as a telemarketer.
In the scene in which this line appears, Cassius has made it to the level of Power Caller at his company. He is being rewarded by riding in a golden elevator, accompanied by a manager who embodies the worst traits of "friendly" capitalism, an aspect of which is spouting non-sequiturs like "35% of men who wear pink start a franchise" to keep employees on the right track. The content of what she says isn't important, it's the way its couched in the untruth of corporate culture, aimed to motivate workers who are completely alienated from the means of production. Having the protagonist work as a telemarketer is a canny choice as it allows the film to fully explore the idea of taking on personas that are not your own (in the case of Cassius, adopting a "white voice" in order to get through to customers), and how this reflects the "code-switching" required by anyone not of the ruling class.
The film's overall message about the need for individuals to consider collective action and opt out of the morass of late capitalism is incredibly salient, as citizens in the United States particularly can be seen to struggle to forge a decent existence despite their best efforts. Debates over what is a livable minimum wage and a stimulus cheque as election promise that has failed to materialise, months of protests in the middle of an ongoing pandemic that hasn't led to meaningful systemic change, and a population forced to be increasingly online in a way that has fostered an ouroboros of discourse are all being grappled with right now. A film like Sorry to Bother You is prescient in portraying the surreality and impersonal nature of the system in which we are all complicit. In that way, it strikes a similar tone to the 2017 release Ingrid Goes West, which explored influencer culture, the other logical end point of the current state of capitalism. That film is also confronting in how it asks the audience to reckon with how as individuals we allow our basic needs to be absorbed by false consciousness; instead striving for money and status, with detrimental consequences.
The cast is full of actors who are drawn to roles grounded in authentic representation, particularly in films that strive to take an intersectional approach to the way America's history is portrayed – see Lakeith Stanfield in Judas and the Black Messiah, Tessa Thompson in Passing, and Steven Yuen in Minari. The film won Best First Feature at the 2019 Film Independent Spirit Awards, and a slew of Best Screenplay awards.  It deserves to be recognised as one of the rare films that makes an effort to represent the complexity of the current moment while taking risks and inviting the audience to come along for the ride.
– Tiana Stefanic
---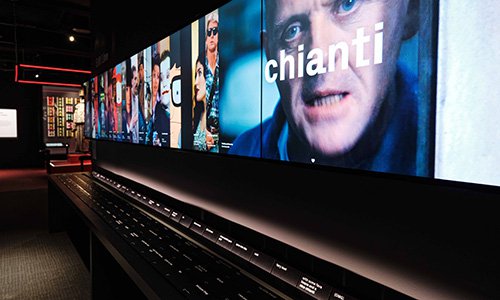 This essay was written for Edit Line
Create your own iconic film and TV moments in real time with Edit Line, an interactive experience in The Story of the Moving Image exhibition at ACMI.
Move physical blocks around to create a story from selected clips. Save your mini masterpiece with your Lens device and take it home with you.
---