The pairing of the perfect performer with the perfect line doesn't happen very often. Usually it's a line that's made perfect by the performance or even a line that's just okay but the performer elevates it by making it their own. Jeremy Strong's delivery of "it's like someone hit a piñata filled with white people who suck at golf" is the perfect performer delivering the perfect line for them. In fact, his portrayal of "numbers guy" trader Vinny Daniel in The Big Short (2015) utilises all of the skills that have made Strong a go-to for filmmakers desperately searching for someone who can deliver dense, chunky dialogue. Whether that's Guy Ritchie with The Gentlemen (2019), Aaron Sorkin with The Trial of the Chicago 7 (2020) and Molly's Game (2017) or Kathryn Bigelow with Detroit (2017) and Zero Dark Thirty (2012), he's someone able to get his tongue around a lot of words.
That was a skill essential for The Big Short, an ensemble biographical dramedy based on the Global Financial Crisis and the collapse of the American housing bubble. Directed and written by Adam McKay, who has made the successful transition over from Will Ferrell comedies to Academy Award-winning critical darling, the film has a lot of balls in the air not just because of the need to make a quite complicated economic subject digestible for a mainstream audience. It also has to juggle a stacked main cast – Brad Pitt, Christian Bale, Steve Carell, Ryan Gosling, Margot Robbie, Selena Gomez, Hamish Linklater, Rafe Spall, Strong – with multiple characters in play and no one, single lead. He certainly succeeded, with McKay sharing the Oscar for Best Adapted Screenplay with Charles Randolph for their work on The Big Short.
There are so many killer lines, however, so many of them have to hit for the film to work and that is a considerable difficulty level. When Mark Baum (Carell) and his small, independent trading team (Strong, Linklater, Spall) enter the American Securitization Forum to chase what might be the deal of a lifetime, it's Strong's gum-chewing Vinny who remarks "it's like someone hit a piñata filled with white people who suck at golf". It's a funny line made flippantly, but the context is crucial. The forum takes place in South Florida, home of perhaps the most famous white person who sucks at gold – Donald Trump – and like the disgraced former US President, many of the attendees are in some way privy to the scam they're conducting on less fortunate Americans. It's ironic in some ways, as the subject matter is not too far removed from that of Strong's most famous character Kendall Roy in Succession (2018 – present), with the two roles tapping into a talent that he's uniquely suited for. Strong has a rare gift when it comes to delivering exposition with expression, elevating material from more than just an infodump thanks to his acerbic wit. It's just like he does for "white people who suck at golf": it's a zinger, but it's also important as it communicates who and where we are.
– Maria Lewis
---
This essay was written for Edit Line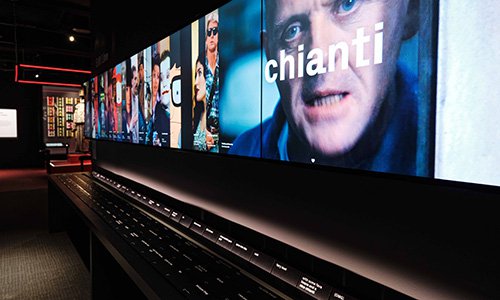 Create your own iconic film and TV moments in real time with Edit Line, an interactive experience in The Story of the Moving Image exhibition at ACMI.
Move physical blocks around to create a story from selected clips. Save your mini masterpiece with your Lens device and take it home with you.
---