It's no surprise that merchandise has already been made to highlight one of the most popular quotes in Yorgos Lanthimos' award-winning movie The Favourite. If you've ever been told that "you look like a badger," chances are the person comparing you to a wild omnivore does not have your best interests at heart. Lady Sarah Churchill (Rachel Weisz) delivers the scathing line to her dearest friend Queen Anne (Olivia Colman), accusing the British monarch of resembling the striped-faced feral animal after the Queen attempts a dramatic new style for her meeting with the Russian ambassador. The Guardian describes the film as a behind-the-scenes tale of female desire and ambition and this line helps sum up those pursuits and the powerplay between Lady Sarah and Queen Anne perfectly.
Set in early 18th-Century England, it's at the beginning of the film when Queen Anne presents herself to Lady Sarah with a thick blotchy, black eyeshadow and a ghostly powered face. "She's trying to be as fashionable as the women in the court, but she got someone to do it and she didn't get it right," makeup artist Nadia Stacey told Vox. Holding back tears, Queen Anne submissively accepts the insult and it's here we see Lady Sarah's power over her. During a Film 4 interview with the Queen herself, Olivia Colman discusses how the three women, Queen Anne, Lady Sarah and Abigail Masham (Emma Stone) manipulate each other and pull the strings throughout the film.
Vox proposed that the 'badger makeup has an "intentionally childish quality" which is seen to play out when Lady Sarah condescendingly sends Queen Anne back to her room. A clever offence that allows Sarah to get what she wants, to stand in and meet the Russian diplomats in Queen Anne's place.
Since the release of the period dramedy in 2019, Vulture Magazine coined the scene a 'powdery royal meltdown' labelling Queen Anne as an out-of-touch, while Baltimore Magazine deemed her makeup as 'less than on point'.
Not surprisingly the dramatic scene has already been made into a gif and shared across Twitter. The gif shows a close up of Queen Anne holding a round, decorated, handheld mirror to her eye after Sarah says, "So you agree, you think you look like a badger?" A miserable Anne nods, confirming with a whisper, "badger". The line is also now printed in the movie's typography on hoodies, t-shirts, mugs and stickers in navy, white and cream. No doubt there will be a new colour coming soon and maybe a baseball cap.
All in all, the quote aligns with the rather surreal piece by a well-known art house director. As makeup artist Stacey suggests Queen Anne's mistake becomes all the more memorable for being "slightly weird and wrong".
– Amber Gibson
---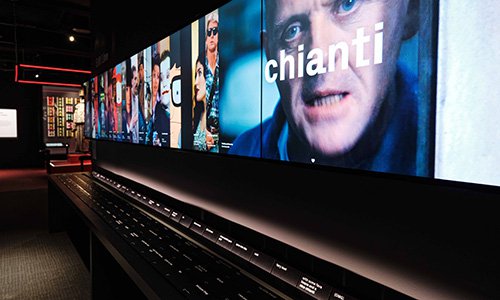 This essay was written for Edit Line
Create your own iconic film and TV moments in real time with Edit Line, an interactive experience in The Story of the Moving Image exhibition at ACMI.
Move physical blocks around to create a story from selected clips. Save your mini masterpiece with your Lens device and take it home with you.
---