When Gustave H. (Ralph Fiennes) finds out about the murder of Madame D. (Tilda Swinton), a wealthy widow and his lover for many years, he immediately departs with his lobby boy Zero to be with her. While drinking wine in a luxurious and intimate train cabin, Monsieur Gustave reminisces over the life of his friend and how "she was dynamite in the sack, by the way", to the bemusement of Zero, "She was 84!". Well Gustave H. has had older he says and goes to bed with all his friends... So what?
In true Wes Anderson fashion, the comedy happens when his characters do something or say something completely unexpected and out of context. Gustave H., the concierge of the Grand Budapest Hotel, is a very distinguished and refined man. A true dandy with an impeccable moustache and manicured hands. He runs the hotel with style, he is charming and grand himself and so this sudden use of slang talking about "dynamite in the sack" is surprising but probably not so out of character. Through the film, we discover the less perfect side of Gustave H., vulnerable and relatable... and a bit of a rascal!
We always sympathise with Anderson's characters, sometimes even relate to them. While comedy is the essence of his films, characters like Gustav H. also defend strong values such as loyalty, friendship and respect, adding depth to the story. Anderson goes even further by creating a persona and story for each of his characters. Their clothes, their way of speaking, their quirky behaviours are very distinct and reflect their personality, much like a surprising line denotes Gustav's rakishness.
The environment they live in is also meticulously crafted. There's always a dominant colour in Wes Anderson movies (pink and pastels for the Grand Budapest Hotel), the décor is infinitely detailed and yet we can never pinpoint what era it is exactly. But we know instantly: this is a Wes Anderson movie. If you're not quite sure, just look at the cast. Anderson works with the same actors repeatedly, Bill Murray, Jason Schwartzman, Owen Wilson, Adrien Brody and others. It's like meeting old friends again and being guaranteed to have a good laugh.
The Grand Budapest Hotel is Wes Anderson's most successful film to date. After winning one Golden Globe and five BAFTA Awards, it was nominated one of the greatest films of the 21st Century by the BBC. The "dynamite in the sack" line was frequently used in TV ads for the film, enticing the audience into this eccentric world, and is quoted in the Time magazine review.
– Pauline Tranchant
---
This essay was written for Edit Line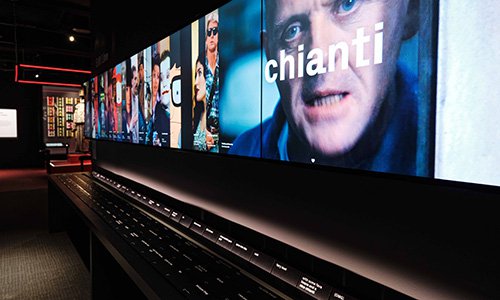 Create your own iconic film and TV moments in real time with Edit Line, an interactive experience in The Story of the Moving Image exhibition at ACMI.
Move physical blocks around to create a story from selected clips. Save your mini masterpiece with your Lens device and take it home with you.
---