Moving high schools is hard, especially when you need to move across the country to a new city as well. When Daniel (Ralph Maccio) arrives in Reseda, California from New Jersey, he immediately has a hard time adjusting. The only silver lining is Ali with an i (Elizabeth Shue), a teenage girl at school who Daniel immediately crushes on. Unfortunately, her ex-boyfriend Johnny Lawrence (William Zabka) isn't quite ready to step aside... unless it's to trip Daniel up.
This is exactly what happens when Daniel insinuates himself into an argument between the ex-lovers at a beach party. Things get violent over a boombox, forcing Daniel to lash out at Johnny. But Johnny is a black belt at the local Cobrai Kai dojo and effortlessly dispatches the slighter interloper.
Humiliated, Daniel bides his time and gets his revenge on Johnny at a Halloween dance by hosing him down in a toilet cubicle. The whole coterie of Cobrai Kai kids corner Daniel against a chain-link fence and begin practising their roundhouse kicks – until Mr Miyagi (Noriyuki "Pat" Morita) appears and saves the day.
Until that moment, Daniel only knows Miyagi as the kindly, old handyman at the apartment block where he lives with his single mother. When he wakes up in Miyagi's workshop, bruised and battered, he discovers that Mr Miyagi is a descendent of a long line of fisherman and fighters who specialise in karate. It's the beginning of Daniel's mentorship under Miyagi, who teaches Daniel the first of many lessons when he outlines that karate isn't for revenge.
"Karate for defense only," he says.
"That's not how these guys are taught man," Daniel replies.
"I can see, no such thing as bad student, only bad teacher."
So begins Daniel's training under Miyagi, one of cinema's greatest mentor characters alongside Obi-Wan Kenobi and Yoda in the Star Wars series. The "bad teacher" line is iconic for being one of the first pearls of wisdom Miyagi imparts on Daniel, but also for expressing a universal truth. It's a life lesson, not just a tenet of karate, and sets the stage for the mentor/student relationship that defines the film. By acknowledging this immediately, Miyagi positions himself and Cobra Kai sensei John Kreese (Martin Kove), a merciless Vietnam vet, as diametrically opposed.
Released in 1984, Karate Kid was a huge hit from director John G Avildsen, who had directed Sylvester Stallone in another iconic underdog story, Rocky in 1976. The two plots are similar, which is exactly what Columbia Pictures was after when they hired Robert Mark Karmen to write it. It went on to make $100m USD at the box-office, which was a profit of $92m, and spawned three direct sequels, a remake, an animated TV show, and a recent TV series, Cobra Kai, which reinterprets the storyline as if Daniel is the aggressor, not Johnny. In Cobra Kai, "Johnny himself was the victim of John Kreese's influence", and the TV show devotes more time to explore the abusive relationship that Johnny has with his step-father, giving even further depth to the "bad teacher" notion – Johnny isn't just a bully, he's a product of his upbringing. But in the original coming-of-age story, it's Daniel who has to learn Miyagi's lessons to stand up to Johnny as the bully, and also suppress his own violent tendencies (seriously, he provokes the Cobrai Kai a lot), culminating in a karate competition where the two teenagers can finally resolve their issues in a safe and official environment. By the time the crane kick flies, Daniel is a wiser, more balanced and confident kid.
He learns these qualities through his tutelage under Miyagi. And unlike most sports films, the training montage is almost entirely foregone for a movie devoted to Daniel's training – not just to be a martial artist, but a decent person. As this review notes, "...the film swells and deepens in the training scenes, building upon the friendship between student and teacher."
Central to this is Pat Morita's portrayal. Morita was best known as a stand-up and comedic actor when he landed the role, which would see him nominated as Best Supporting Actor at the Academy Awards, and enshrined in cinematic history. His lessons, particularly the "bad teacher" notion, have been debated and analysed on forums and websites across the internet, with some educators even employing their own defenses against a perceived slight on their profession. There are countless online videos devoted to his teachings, and Twitter users routinely use the line to remind others of Miyagi's wisdom, while the succinctness of the line lends itself well to meme templates.
It's a real lesson in crafting memorable dialogue.
– Matt Millikan
---
This essay was written for Edit Line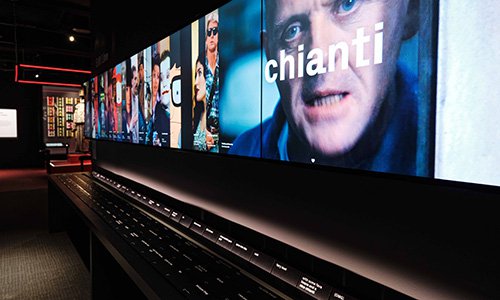 Create your own iconic film and TV moments in real time with Edit Line, an interactive experience in The Story of the Moving Image exhibition at ACMI.
Move physical blocks around to create a story from selected clips. Save your mini masterpiece with your Lens device and take it home with you.
---