Created by David Chase (Northern Exposure, The Rockford Files) The Sopranos premiered on U.S. cable network HBO in 1999 and helped usher in the age of prestige TV with its tale of a depressed New Jersey crime boss Tony Soprano (then little known actor James Gandolfini) navigating both his crime and traditional families. Taking inspiration from classic gangster films like Francis Ford Coppola's The Godfather trilogy and especially Martin Scorsese's Goodfellas (which features many of the same actors), Chase has said his ambition was to make each episode a self-contained, mini-movie.
"You speak for the captains?" Tony Soprano's Uncle Junior asks him.
"I can." answers Tony.
Earlier, Tony Soprano's (James Gandolfini) therapist Dr Melfi (Lorraine Bracco) has offered tactics to deal with his overbearing mother – primarily making her belief that she is still in control to moderate her behaviour since Tony placed her in a retirement community.
"Would it hurt to let your mother think she's still in charge?" Melfi asks.
Faced with a looming turf war from his other family (which actually includes members of his real family), Tony applies Melfi's thinking to his disgruntled Uncle Junior by allowing him to be the 'boss' of the crime family – except Tony is the one really in control. Tony's simple response, and Gandolfini's understated but steely delivery, lays bear this powerplay – Tony speaks for the captains, Junior may be boss, but it's Tony who can let him think that. It represents many of the instances in the series where power struggles are fought with both violence and language. With their own lexicon of mob phrases and Italian Americanisms, and the feds always listening, talking is central to a show where what's said and what's meant are worlds apart. When a mob boss 'takes care' of someone, they're not handing out hugs after-all.
An early example of The Sopranos subverting what audiences have come to expect from screen gangsters, Tony elects to talk it out, not shoot it out. He's got enough on his mind as is – declining mob standards, panic attacks, work-life balance, and a difficult aging mother. No wonder he needs a psychiatrist. Amid this existential crisis, Tony is struggling with the fading idea of the American dream he grew up with and the threat change poses for both of his 'families'.
The film director and historian Peter Bogdanovich has observed "The contrast between the normal family life and the abnormal gangster life makes both of them strangely universal." Nicholas Rapold writing in Film Comment went a little deeper suggesting The Sopranos re-psychologised the patriarchal burdens of mafia clan leaders, their experience of sins and redemption made dramatically more potent by the life-and-death stakes.
The success of The Sopranos is in part its juxtaposing of Tony's two families and is one reason the show and its characters have continued to resonate with audiences.
HBO's tagline in 1999 was a prophetic "It's not TV. It's HBO." The Sopranos came at a time when E.R., Law and Order and N.Y.P.D Blue were mid-stride on network television and helped usher in the period of prestige tv, appearing about six months before Aaron Sorkin's likewise influential The West Wing and two years after HBO's groundbreaking prison drama Oz, which starred Edie Falco, who would go onto play Carmela Soprano, and ratcheted-up the on-screen violence and philosophising common in The Sopranos.
The Sopranos ode to cinema and its willingness to delve into the psychological issues of sentimental sociopath Tony Soprano changed television. The everyman could be a mob boss with family problems or a schoolteacher who moonlights as a meth dealer as seen in Vince Gilligan's Breaking Bad. Gilligan, referring to his much-loved protagonist, noted: "Without Tony Soprano, there would be no Walter White."
Many of the show's creative crew have also played a continuing role in prestige TV. Matthew Weiner, creator of Mad Men, was recruited as a writer for The Sopranos five years before Mad Men premiered in 2007 and another Sopranos writer, Terence Winter, went on to create the HBO series Boardwalk Empire in 2010.
Twenty years on, the global pandemic has seen the show re-enter the zeitgeist with audiences gifted the time to re-watch this masterpiece and the uninitiated watching it for the first time. This has also allowed an endlessly quotable and meme-able show, born in a different time, to receive a modern-day social media response. Michael Imperioli, who plays Tony's nephew Christopher, recently launched a popular Sopranos re-watch podcast, again affording a very modern-day response to a show from a different era because people still care about the show and its characters. There's even a feature film prequel to the series due for release this year starring James Gandolfini's son, Michael, as a young Tony Soprano in The Many Saints of Newark.
Its influence is evident not just in the anti-heroes who followed, such as Walter White, and TV's pivot to gritty crime stories with ensembles of complex, three-dimensional characters, but in how many times it's been directly parodied and spoofed, whether that's Saturday Night Live or The Simpsons.
– Anthony Stipanov
---
This essay was written for Edit Line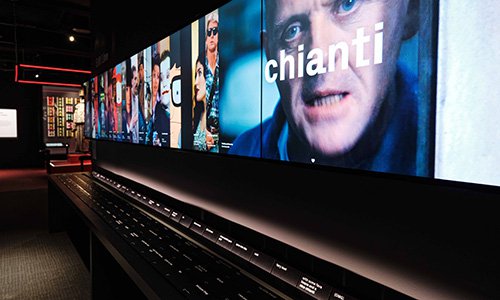 Create your own iconic film and TV moments in real time with Edit Line, an interactive experience in The Story of the Moving Image exhibition at ACMI.
Move physical blocks around to create a story from selected clips. Save your mini masterpiece with your Lens device and take it home with you.
---