When young Dorothy begins exploring the Technicolor wonderland of Oz, she famously confides to Toto, her cute canine companion: "I have a feeling we're not in Kansas anymore."
No one involved in the production of The Wizard of Oz could have foreseen that this innocent understatement would become one of the most memorable and oft-quoted lines in the history of Hollywood cinema; number 4 on the American Film Institute's Top 100 quotes, just to indicate one measure.
Nor could they have foreseen how often people would fondly misremember and misquote it; "I'm afraid we're not in Kansas anymore," being a frequent favourite.
And nor would most people realise that the 16-year-old, heavily corseted Judy Garland herself misquoted the line on camera, because chief script writer Noel Langley's original screenplay had it written as: "I've got a feeling we're not in Kansas anymore."
And finally, few people would realise that even though the film was made in 1939, it wasn't until after 1980 that Dorothy's line, or any number of misquoted variants of it, would enter the English language as a common expression of being out of one's depth or one's normal reality. In other words, there was a delay of 40 years before the line would begin to become as loved, famous and familiar as it is.
For when it was first released, The Wizard of Oz, unlike Walt Disney's 1937 Snow White, did not return a profit. Indeed, it earned more than a few unfavourable reviews: "sludge!" wrote one critic. It wasn't until a TV broadcast in 1956 that the film attracted 4 million happy viewers in one night. Then it disappeared again until a second TV broadcast in 1959, and only after this did it became an annual TV event.
But the big turning point in its fame and popularity arguably happened in 1980 when The Wizard of Oz first became available as home entertainment on VHS and Betamax. With subsequent releases on DVD, Blue Ray and internet streaming, it has, according to the New York Times, possibly become the most watched Hollywood movie of all time.
So… when Neo chooses the red pill in The Matrix, and Cipher cryptically says to him, "Buckle your seatbelt, Dorothy, 'cause Kansas is going bye-bye", viewers in the know recognise immediately that Neo is about to enter a world beyond his (and their) imagining. And those few viewers who have never seen The Wizard of Oz also get the drift of what's about to unfold because the Kansas reference is so very deeply embedded as a phrase in popular culture. No one asks, "Why is Cipher calling Keanu 'Dorothy'?". Nor do they stop to think, "I didn't realise The Matrix is set in Kansas."
Instead, the meaning slips in effortlessly under the radar. Or, perhaps, over the rainbow, somewhere.
– Russell Walsh
---
Explore more stories about screen Goddesses at ACMI
---
This essay was written for Edit Line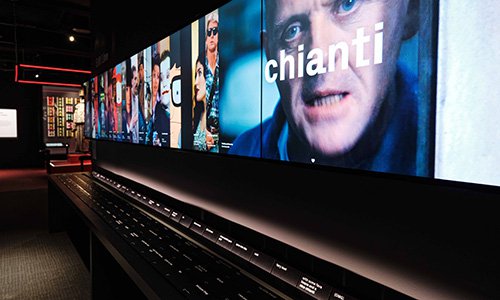 Create your own iconic film and TV moments in real time with Edit Line, an interactive experience in The Story of the Moving Image exhibition at ACMI.
Move physical blocks around to create a story from selected clips. Save your mini masterpiece with your Lens device and take it home with you.
---