"Mulder, the truth is out there," says FBI Special Agent Dana Scully. "But so are lies." It's episode seventeen of the seminal science-fiction series The X-Files (1993–2018) during its first season run where the show became Fox's most watched program in the US and one of the most significant series globally. It had already catapulted its stars David Duchovny (Mulder) and Dana Scully (Gillian Anderson) to international stardom, meanwhile "the truth is out there" had become somewhat of an unintentional philosophy. In the ground-breaking opening credits to The X-Files – as well as distorted images and archived photos – phrases like "paranormal activity" and "government denies knowledge" flash on screen as the theme song plays. The last words we see after creator Chris Carter's name and before the screen goes black and we kickstart that week's episode is "the truth is out there".
Arguably, it's the most important sentiment of the show, which is saying something given The X-Files contains a lot of big ideas. From aliens and shapeshifters to immortal serial killers and government conspiracies, it's not hard to see how it become a pop cultural phenomenon and inspired a legacy of shows like Alias (2001–06), Fringe (2008–13) and Stranger Things (2016–present). It was endlessly referenced throughout the 90s, in songs like One Week by alt-rock band Barenaked Ladies ("watchin X-Files with no lights on") and Year 2000 from rapper and actor Xzibit ("the X-Files make you believe"). It covered magazines like Rolling Stone and Time, launched endless linked media properties like feature films, comics, novels, games, and inspired a generation of women to pursue careers in science just like Special Agent Scully. The pilot script along with props including Mulder's "I Want To Believe" office poster are even on display in the Smithsonian's National Museum of American History.
The show was and is important: so is the truth. The line "the truth is out there" opens every episode thanks to the closing seconds of the credits and is synonymous with The X-Files mantra of question everything. It's usually dialogue we hear coming from the lips of Special Agent Mulder, especially during the first season. Yet as we near The X-Files' first finale, the line is subverted and thrown back at Mulder rather than delivered by him. "The truth is out there," says Scully, before following up with "but so are lies". It's the conclusion to the sentiment which is key in this specific moment, shining a spotlight on the show's biggest tagline but also the purpose of its biggest relationship. While Mulder can and will entertain any possibility, it's Scully's role to ground him in reality and in turn hopefully get to the factual truth of the matter rather than the idea of it.
– Maria Lewis
---
Explore more stories about screen Goddesses at ACMI
---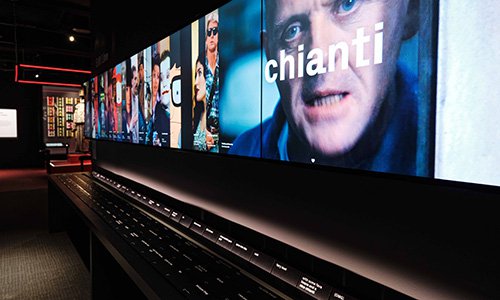 This essay was written for Edit Line
Create your own iconic film and TV moments in real time with Edit Line, an interactive experience in The Story of the Moving Image exhibition at ACMI.
Move physical blocks around to create a story from selected clips. Save your mini masterpiece with your Lens device and take it home with you.
---