Nada (Roddy Piper) backs his big form into a building from the street to escape from a little ruckus that he'd caused outside. Police sirens reverberate on the glass building outside. Nada turns, his 80s blond mullet flicks around. He's dressed in a flannelette ("flano") shirt, tucked into dad jeans, strapped with various weapons, and nursing a shotgun. Nada is wearing sunglasses - not just to look cool, which he does) - they are unique. These shades reveal the invasion from an ugly alien force subliminally controlling humanity. Wearing these glasses Nada can fight through the bombardment of messages to "Stay Asleep", "No Imagination", "Submit to Authority" and hopefully help the population to WAKE UP. When he casts his eyes throughout the bank, he starts to see a swarm of these aliens congregating around money and the remaining human crowd tittering at the armed beefcake before them. Nada breaks the quiet commotion with an antagonistic one-liner of the tallest order. The line continues to rip, just as it did thirty years ago: "I have come to chew bubble gum and kick ass. And I'm all out of bubble gum." When the disguised aliens' fire first, Nada returns with a volley of BUCK-SHOT, BUCK-SHOT, BUCK-SHOT. The aliens are overwhelmed and those who aren't cut down, flee.
---
This essay was written for Edit Line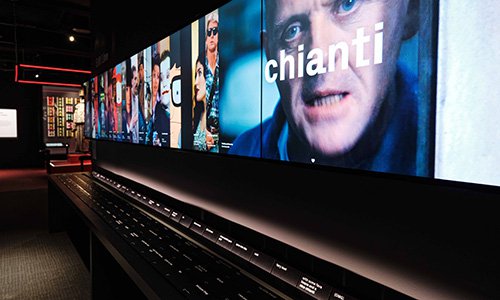 Create your own iconic film and TV moments in real time with Edit Line, an interactive experience in The Story of the Moving Image exhibition at ACMI.
Move physical blocks around to create a story from selected clips. Save your mini masterpiece with your Lens device and take it home with you.
---