Alone in her first-class cabin accompanied by only Monet and Picasso, Rose tells Jack, "draw me like one of your French girls", referring to the nude portraits he's sketched of Parisian women in brothels. In this moment Rose tosses aside her upper-class upbringing, separating herself from the expectations that suffocate her.
This iconic scene acts as the crux of the story revealing narrator, Rose Dawson, once held possession of the Heart of the Ocean in her former life as Rose Dewitt Bukater.
Although Titanic is known as an action-packed romantic drama, the film is surprisingly feminist for a 90s blockbuster. Rose spends her few days on the ship going through a transformation, boarding the ship as an unhappy socialite and surviving as a liberated woman. Yes – a very dashing young man acts as the catalyst for this transformation – but the post-Titanic photos on her bedside table make a point of showing Rose went on to live a long, full life of adventure despite Jack sinking to the bottom of the Atlantic along with her familial oppression.
The world has been fascinated by the shipwreck of the RMS Titanic since it sank in 1912, yet there was a huge cultural resurgence when the wreckage was finally discovered during a top-secret military operation in 1985. Director James Cameron was among the story's biggest fans and jumped at the chance to bring this story to life – in a big way.
At the time Titanic was the most expensive film ever made – rumoured to have gone at least $65 million over budget. Although many feared this high drama production would be a critical flop, it smashed numerous box office records, being the first film to gross $1 billion worldwide and held the #1 spot in North American theatres for 15 consecutive weeks.
There is no shortage of Titanic content on the internet – there seems to be an article analysing every aspect of this three-and-a-half-hour epic.
Type 'draw me like one of your French girls' into Google images and be prepared to lose hours scrolling through the countless memes parodying this ultra-famous quote. Most commonly used to anthropomorphise animals in alluring positions, this meme format captures the impact this scandalous scene had on young viewers who perhaps watched the film at a sleepover against their parents' wishes.
It's one of those iconic moments of pop culture that seems to have lasting impact whether you've seen Titanic or not. Xan Brooks from The Guardian recently wrote about his experience watching the film 20 years later saying, 'I've never seen Titanic and always figured, what's the point? I've seen bits of it, chunks of it. I know the plot, the song, the famous lines. "Draw me like one of your French girls, Jack".' Though, as you can see in the clip below, the line actually starts with Jack, not end with it.
– Brittney Montag
---
Explore more stories about screen Goddesses at ACMI
---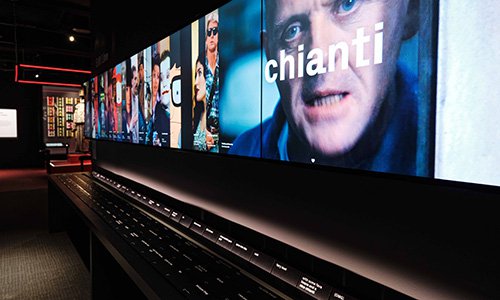 This essay was written for Edit Line
Create your own iconic film and TV moments in real time with Edit Line, an interactive experience in The Story of the Moving Image exhibition at ACMI.
Move physical blocks around to create a story from selected clips. Save your mini masterpiece with your Lens device and take it home with you.
---