After stumbling upon the body of Laura Palmer (Sheryl Lee), Pete Martell (Jack Nance) spreads the word with: "She's dead… wrapped in plastic", setting the news off in the town of Twin Peaks to a ripple of disbelief. Laura Palmer was the beauty queen, the good girl, the one to be admired. And as the show unravels its eerily twisted plot the audience learns she led a sinister double life in the secret underworld of what appears to be a quiet suburban town, resulting in her unnervingly public murder.
When Twin Peaks first aired in 1990 it was truly a television show like no other. Gripping from the first note of Angelo Badalamenti's haunting theme song – the setting is both familiar and abstract in typical Lynch fashion. Twin Peaks is disguised as any sleepy small town you may stop in for a cup of coffee, which makes peeling back the mysterious layers ever so intriguing.
Laura Palmer's death turns out to be as gruesome as one would expect from meeting her wrapped in plastic on the beach, cold and lifeless – a stark contrast to the camp vibrancy in which the fictional world was designed. Twin Peaks is bursting with sexual frustration, leading nearly every main character astray. The death of Laura Palmer, victim to sexual and domestic violence, captivated and indulged American appetites for everything crime, a genre that really hit its stride in the 80s and 90s.
Twin Peak's cutting-edge pilot was an instant hit, ranking #1 of the 1989–90 television season. Arguably a genre of its own – somewhere between a thriller, comedy and soap opera – the show is so infectiously eccentric from dialogue to set design, it's impossible not to feel like you're part of something special, yet deranged.
Any good cult classic has a fan zine – for Twin Peaks it was Wrapped in Plastic running strong from 1993 to 2005, which analysed all things Twin Peaks and David Lynch. In 2020 the creators uploaded all 75 issues to eBooks on Amazon allowing die-hard fans to spend their COVID-19 isolation re-connecting with this adored cult classic.
Even if you haven't watched it, you're more than likely to know something about it. Whether it's in reference to 'a damn fine cup or coffee', or 'she's dead… wrapped in plastic', the imagery and even more iconic fashion seems to pervade pop culture from every corner.
Eighteen years after the show premiered, Sheryl Lee was still discussing the iconic TV moment, stating: "... every sand grain on my head, David [Lynch] placed that there. The way that the plastic is wrapped around my head, David did all that very, very specifically, and the way my hair was. I felt as if I was in his painting."
Another interesting piece of trivia was caught by the bloggers at TwinPeaksBlog.com, which have deconstructed the famous opening line and noted that it wasn't in the original script.
And if you're really into the Pete Martell's delivery and Angelo Badalamenti's score, check out this musical mash-up on MixCloud.
–  Brittney Montag
---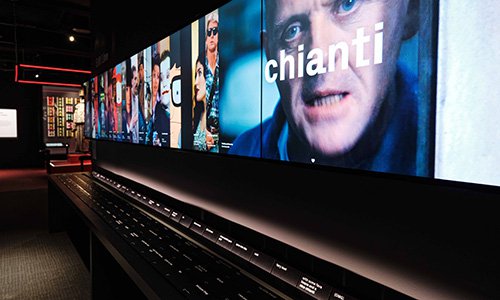 This essay was written for Edit Line
Create your own iconic film and TV moments in real time with Edit Line, an interactive experience in The Story of the Moving Image exhibition at ACMI.
Move physical blocks around to create a story from selected clips. Save your mini masterpiece with your Lens device and take it home with you.
---