HBO's Westworld, a rebooted TV series based on Michael Crichton's original 1973 film, takes place in a futuristic theme park where the rich live out their frontier fantasies in a world based on the Old West. The landscape's frontier isn't the only edge visitors explore, but their own morality and for some, their reality. The park is filled with life-like androids called Hosts, who exist purely to entertain the guests. While some guests treat them fairly, many don't, instead living out their darkest desires on these apparently soulless creations. When a group of the park's Hosts begin to remember previous iterations of their existence, something that their constant rebooting and reassembly after death shouldn't allow, they begin to gain consciousness and with it, free will.
When Dolores Abernathy (Even Rachel Wood), the first Host, realises that she's been stuck in a perpetual loop as a rancher's wholesome daughter, destined to watch her lover Teddy be murdered endlessly, she sets off to find a new fate. Like any good western, that fate involves a lot of revenge as Dolores gathers followers to take up arms against the soulless human overseers in the Delos Destinations company.
In episode seven of the second season, Dolores' has escaped the park and entered the real-world facility where the park is controlled. With her band of Hosts, Dolores dismantles the security forces inside the facility, including the executive director of the park's parent company Delos Destinations, Charlotte Hale, who is guarding Dolores' father Host with the head of security. Speaking of heads, inside Dolores' father's is a program that will help the Hosts achieve their freedom. This is the first time the boss of Delos and the leader of the Host Uprising have come face to face. This showdown is the climax of almost two seasons worth of storytelling, and without giving anything away, Dolores' threat "an eye for an eye... but all the other parts first", demonstrates how this once passive, animatronic character has achieved consciousness and become human, embodying even the worst parts of humanity – like revenge.
It's not just a badass line either, with eyes in Westworld playing a significant part of the show's symbolism. In one of the first shots of the very first episode, a fly crawls across Dolores' eye, a visually striking moment that demonstrates the inhumanity not just of the Hosts, but the people controlling them. It's a recurring motif that appears throughout all seasons of the show that has been picked up in marketing promos and trailers, as well as across message boards on the internet.
– Matt Millikan
---
Explore more stories about screen Goddesses at ACMI
---
This essay was written for Edit Line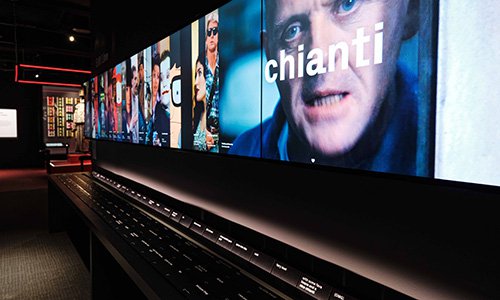 Create your own iconic film and TV moments in real time with Edit Line, an interactive experience in The Story of the Moving Image exhibition at ACMI.
Move physical blocks around to create a story from selected clips. Save your mini masterpiece with your Lens device and take it home with you.
---