When the supernaturally charming Meg Ryan, as Sally, says those two little linking words "because they...", she's waving her hand to prompt her lunch partner, Billy Crystal's quirky and adorable Harry, to clarify. Harry responds "because they..." and begins gently mocking her by mimicking her hand gesture. This is the set-up for the most iconic scene in one of the greatest rom-coms of all time – When Harry Met Sally (1989). These two little linking words and their echoes between Harry and Sally eating at the table are following by a pregnant pause and an orgasmic performance – after-all, they're talking about female orgasms, which Harry believes he delivers "because they...", presumably do so? Unfortunately for Hary's ego, Sally asks "Well how do you know that they really..."? This on-screen conversation changed the cadence, candour and agency of women in American comedy. The scene that contains these two little words made the female orgasm the centrepiece of a typically chaste and even prudish mainstream Hollywood rom-com, and those words set the scene and changed cinematic history.
Director Rob Reiner has an early run of such staggering quality and successful films that it would be remiss not to mention it. When Harry Met Sally (1989) was released sandwiched between some of the best films of the period, all directed by Reiner. The instant mockumentary classic This is Spinal Tap (1984); the coming-of-age Stephen King adaption Stand by Me (1986); the delightful modern fairytale The Princess Bride (1987); the brutal cautionary tale of fandom gone wrong with the Oscar-winning Misery (1990); and the star-studded, ever-quotable, courtroom drama A Few Good Men (1992). In that period, Reiner collaborated with some of the greatest screenwriters that ever lived. William Goldman, Oscar-winning screenwriter of All the President's Men (1976) and Butch Cassidy and the Sundance Kid (1969), wrote The Princess Bride and Misery. Aaron Sorkin, the Oscar-winning screenwriter of The Social Network (2010), wrote A Few Good Men. And US comic royalty Christopher Guest/Michael McKean/Harry Shearer wrote and starred in This is Spinal Tap. The screenwriter for When Harry Met Sally (1989) was author, essayist and sometimes filmmaker Nora Ephron. Ephron was also the writer of Heartburn (1986), Sleepless in Seattle (1993) and You've Got Mail (1998).
Ryan's magnetism leapt from the screen in a small but memorable turn as Goose's wife/widow Carole in Tony Scott's Top Gun (1986), but it's When Harry Met Sally (1989) that makes her a household name. According to Crystal, the idea for the scene evolved out of rehearsal when Ephron revealed to (director Rob) Reiner that women fake orgasms; he responded – as Harry does – something like 'not with me'. Ryan had an epiphany and convinced Reiner and Ephron that she should fake one in a public place; while Crystal suggested that older women should say the classic line "I'll have what she's having." This scene's impact is felt in American comedy – especially sitcoms – for the next decade. Seinfeld (1989-1998) and Friends (1994- 2004)— particularly the early seasons –would see the characters sharing dating in New York in the 90s war stories, much like Sally and Harry. The entire Sex and City (1998–2004) series feels like pulling back the curtain on the kinds of uncensored sex chat that bloom in groups of female friends and helped make it into mainstream screen culture through When Harry Met Sally.
– Blake Howard
---
This essay was written for Edit Line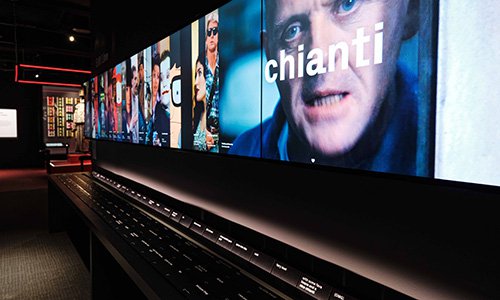 Create your own iconic film and TV moments in real time with Edit Line, an interactive experience in The Story of the Moving Image exhibition at ACMI.
Move physical blocks around to create a story from selected clips. Save your mini masterpiece with your Lens device and take it home with you.
---