The Melbourne Cinémathèque & ACMI present
Shadows of Forgotten Ancestors
Sergei Parajanov
|
Soviet Union
|
1965
|
Unclassified (15+)
In an isolated Hutsul community in the Carpathian Mountains circa the 1860s, a peasant falls in love with the daughter of the man responsible for his father's death. Inspired by the early work of Andrei Tarkovsky and based on the novel by celebrated Ukrainian writer Mykhailo Kotsiubynsky, Armenian writer-director Parajanov revealed his remarkable talent for lyricism, ornamentation and breathtaking visual composition. A major influence on modern Iranian cinema, and widely considered one of the greatest of all Ukrainian films, Shadows of Forgotten Ancestors blazed the path for Parajanov's following masterwork, The Colour of Pomegranates.
Language:
Ukrainian with English Subtitles
Courtesy:
Dovzhenko Centre
Also screening on Wed 20 July
About the program
2022 marks the centenary of Ukrainian feature filmmaking. This season assembles six masterworks of Ukrainian cinema, all canonised by the Dovzhenko Centre (the Ukrainian national film archive in Kyiv) and includes three landmark titles from the Ukrainian Soviet Socialist Republic era (1922–91) – all of which were at ideological odds with the official doctrines of their times – and three from the 21st century...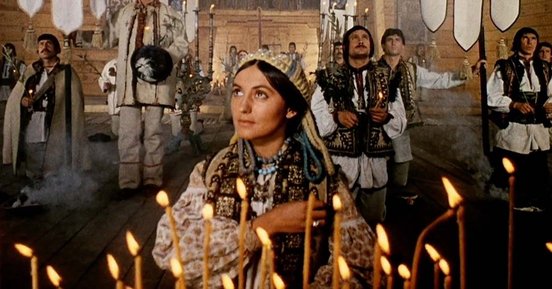 Read our COVIDSafe visitor guidelines, information on accessibility, amenities, transport, dining options and more.
About Melbourne Cinémathèque
Australia's longest-running film society, Melbourne Cinémathèque screens significant works of international cinema in the medium they were created, the way they would have originally screened.
Melbourne Cinémathèque is self-administered, volunteer-run, not-for-profit and membership-driven.